"Taking risks in art is not a sacrifice for me but instead becomes my saviour"
Details

Hits: 6303
Interview for Art Flute: [Framing The Artist] Keeping Hope Afloat with Boris Novak, August 2015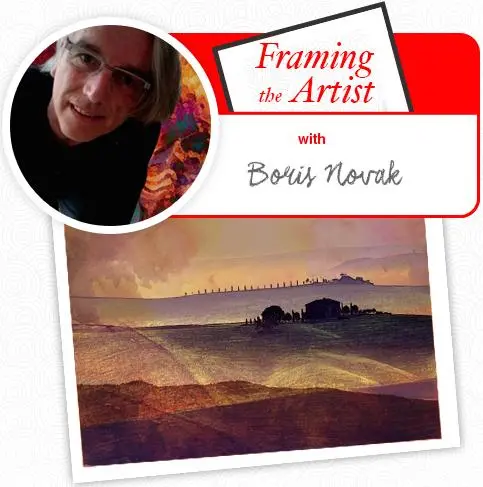 An artist with an unbeatable sense of optimism, Dutch artist and brilliant photographer Boris Novak believes that doubt has immense motivational powers that can push an artist to produce memorable work. Growing up in communist Prague, his family dreamt of a more humane and open society. It was his search for freedom that led him to the Netherlands where he has been living since the age of 21. Exceedingly talented, his portfolio boasts of work created using diverse painting and media techniques. Sandro Botticelli, Michelangelo Merisi da Caravaggio, Anish Kapoor, Jean-Michel Basquiat and Sachin Jaltare are just some of the artists that he admires greatly. His artistic description of the creative flow he experiences is almost spiritual despite being a self-declared nontheist. He says that art flows through him like a river which swells after the rain.
Artflute's Sridevi Padmanabhan caught up with Boris to ask him a few questions about his life as an artist.

It's always interesting to know about how an artist's background has influenced his art?
How did where you grew up and the experiences you've had shape the art you make?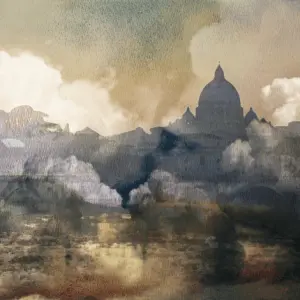 The Eternal City in the Clouds
My strongest influences initially were my parents, both of whom were architects and also enjoyed painting. From an early age, they involved me in painting. My toys were brushes and crayons. While we lived in Prague, they would organize painting trips with their friends, picnics, interesting discussions and we would produce plenty of watercolor paintings, with the grand finale being a group exhibition for curious bystanders. I enjoyed these a lot! Not just that, visits to art exhibitions and heritage buildings were big for my family. I remember gazing mesmerized at baroque ceiling paintings in old palaces and at world famous art by the biggest names in the business – Picasso, Chagall and Malevich were my heroes. Their paintings were easy to understand and yet so impressive and powerful, leaving a profound impact on my young soul. Watching my mum paint was something I always loved as a child and I remember wishing that one day I would be able to express myself on canvas with the ease she had.

Do you have any studio rituals?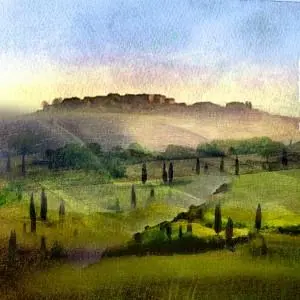 Dreaming of Tuscany
My main ritual takes place outside my atelier. I visualize my paintings even before I start them. I lie down, close my eyes and start my journey by painting or drawing in my mind. As I travel through layers and textures, I meet the protagonists of my painting as if they are alive. The next day, I begin to paint trying to recreate that daydream. Sometimes it just flows out my hand while at other times it's one long struggle.

What is your attitude towards risk and sacrifice- two themes that recur a lot when it comes to artists. What risks would you say you have taken in your career?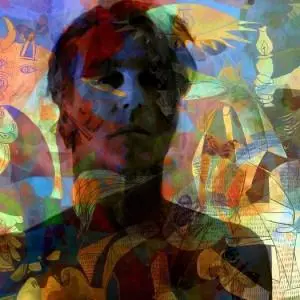 Guernica nire etxea
If I try to play safe, my work is not enjoyed as much by my audience. It is pretty clear to me that people like my work best when I am taking artistic risks. My audience doesn't give me any other choice than to experiment. I try something new and go beyond the classic even when I am using old themes and techniques. So, taking risks in art is not a sacrifice for me but instead becomes my saviour.
What inspires you? Where do you find ideas for your work?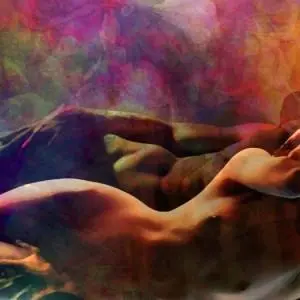 Love Enchanted
This might sound like a cliché, but what inspires me is love. The soft side of existence animates me. There is almost a tsunami of ugliness and human misery in the world and arrogance is always a threat. I feel that it's my calling to express the beautiful parts of humanity, including eroticism and sensuality
What was the first artwork you sold? How did it make you feel?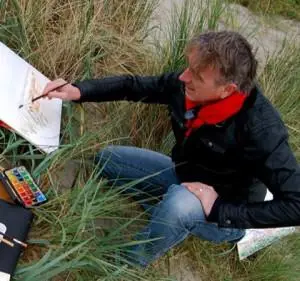 My first experience of selling a painting was a long time ago and honestly at that time, I felt like I was betraying myself by selling a part of my soul. But later I began to realise that selling my work is the same as sharing my ideas and feelings with someone. It feels so great to be a part of someone's life, and to be a part of their home. It is where people are living life, feeling diverse emotions and where children are growing up. I love knowing that my paintings are in these places perhaps subtly influencing someone's daily life and becoming part of memories.
Have you ever had a period of being creatively blocked? How did you work through it?
Of course there are times when I feel blocked. However, since I am a designer too, when one does not flow I simply switch my attention to the other and this works really well.
What can we look forward to from you?
Many new paintings are on the anvil and a sculpture project is coming together after a long time in honor of a great man who has helped to shape world as we know it.