Details

Hits: 6107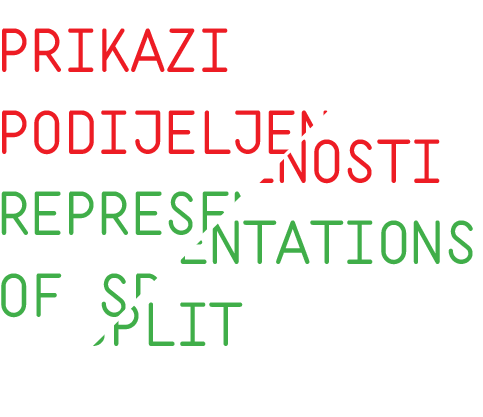 39th Split Salon, Contemporary Visual Arts Biennial
Dates: Nov. 5, 2015 - Nov. 30, 2015
Venue: Split Salon, Contemporary Visual Arts Biennial, Split, Croatia, Various art galleries and locations.
Split Salon is an exhibit on various locations across city of recent works by the members of the Croatian Association of Artists in Split.
Held as both an annual and biennial event for almost four decades since 1969, Split Salon has been one of the most important exhibitions of contemporary art in the Dalmatian capital. This year's edition features a group of artists who will showcase their recent works around various themes.

I'm not a member of the Croatian Association of Artists but I'm invited as a guest artist to join the manifestation.
My contribution: "Pandora"
Selfadesive text pasted on the statue of the former Croatian President Franjo Tuđman, statue is made several years ago by B. Silađin and Z. Jurić. (Text is easy to remove, it will not damage the statue.)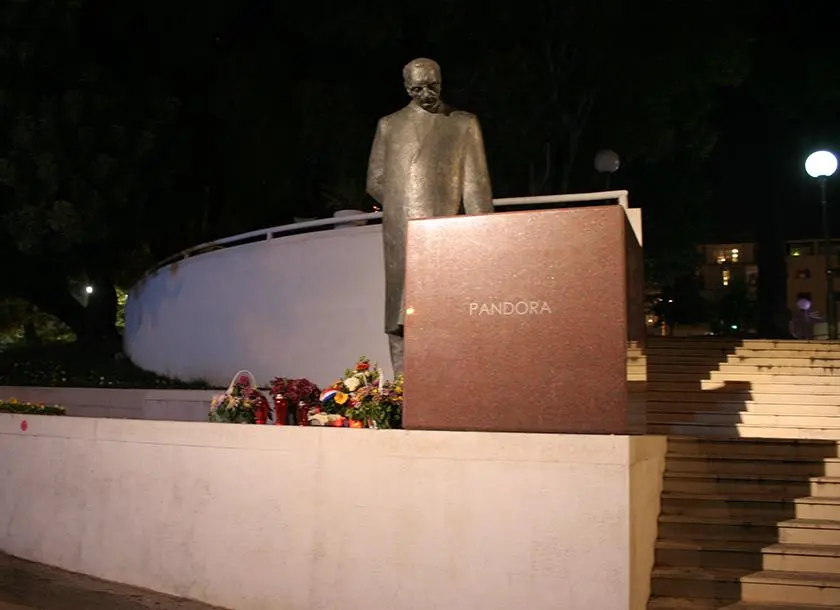 The Croatian Association of Artists http://www.hulu-split.hr/
LIST OF EXHIBITORS
Alajbeg Ivan, Alajbeg Zoran, Andrić Jozo, Banovac Ante, Barić Vinko, Baučić Marin, Bavčević Gildo, Berković Denis, Bićanić Dino, Biliškov Antonija, Blažević Šparac Loara, Boban Duška (Nemamo Prijavnicu Za Ss), Bosnić Josip, Bošković - Freund Ana, Botteri Peruzović Ana Marija, Botteri Josip, Božanić Čače Alma, Brkić Milan, Burazin Sanja, Cikatić - Javorčić Daniela, Cokarić Hrvoje, Čičin - Šain Nives, Čotić Noemi, Čule Paško, Čulić Mladen, Čvorović Nikša, Ćaleta Robert, Dan Oki, Davidenko Vladimir, Dodig Tomislav, Dragičević Dragoslav, Dragičević Edvin, Dubovac Branka, Dumanić Zlatan, Duparova Emilija, Duplančić Luka, Đivoje Alemka, , Fistonić Grgur, Gizdić Mirjana, Glinski Evgenij, Golub Momčilo, Grenc Karin, Grimani Petar, Halbarth Vilim, Hammer Neda, Hraste Kažimir, Hraste Vojin, Hržina-Majstorović Sonja, Ivanišević Stjepan, Jakelić Petar, Jelača Marinko, Jelača-Marijančević Tončica, Jelenić Antej, Jelovac-Rizzi Lucija, Jelušić Maja, Jokić Slobodan/Dan Oki, Jozić Robert, Jukić Nives, Karadža Vedran, Kljaković Tisja, Kovačić Petra, Kovačić Kuzma, Krpetić Zoran, Kuštre Ante, Listeš Ivan, Lukas Midžić Hana, Ljubetić Nataša, Mach - Orlić Višnja, Mandarić Ante, Marković Marko, Marović Mirjana, Marović Željko, Martinić Đani, Mijić Matko, Mikulić Neno, Mimica Luka, Missia Frano, Miše Blaga-Slikarica, Mišura Oliver, Myšičkova Lucija, Musa Andrea, Mustapić - Jelavić Ivona, Nuić-Vučković Dragana, Oreb Gloria, Pagar Vanja, Palčok Miran, Pavlov Nataša, Perišin Sunčica Tomljanović, Peruzović Hrvoje - Marko, Piragić Ahmed, Podrug Josip Ado, Popović Milivoj, Popović Veljko, Popović Viktor, Puljić Ivana, Radeljak Miroslav, Radić Parać Sandra, Ravlić Čelić Tatjana, Restović Kristina, Restović Velebit, Ružić Neli, Sesartić Dijana - Iva, Skračić Ana, Smodlaka Liljana, Sokić Jelena, Sterle Sandra, Stipančević Stipan, Stojićević Lana, Strinić Ante, Šalov Tomislav, Šitum Morić Tea, Špika Josip, Šušak Danijela, Tadić Anto, Taraš Prančević Sanja, Tomasović Vice, Veronika Boris, Vrekalo Božo, Višić Guina Marija, Voloder Julijana, Vukasović Tina, Vulas Mladen, Zoričić Milan, Žitnik Srećko, Živković - Kuljiš Loren, Žuvela Gorki, Žižović Aleksandar, Škrobonja Darko, Beneta Ružić Jasmina, Anagram art, Matošić Jakša, Bezinović Aleksandar, Eric Del Castillo, Duraković Ante, Katavić Petar, Reljić Vilma, Banovac Andro, Novak Boris
Subcategories